Quantum mechanics
Quantum mechanics and its computational implementation is central to many aspects of modelling research at Manchester.
Atoms and molecules
Both ab initio (wave function) theory (WFT) and density functional theory (DFT) methods are employed to study electronic, geometric, energetic and magnetic properties and reactivity of molecules and solids from all over the periodic table.
Figures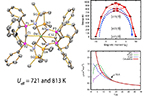 Quantum mechanics – condensed matter
In this area, we note the research of the Condensed Matter Physics Group in the School of Physics and Astronomy. Their research covers nanoscale and mesoscopic materials (graphene being a noteworthy example), metamaterials, and quantum fluids and solids. This group has strong links with the National Graphene Institute.